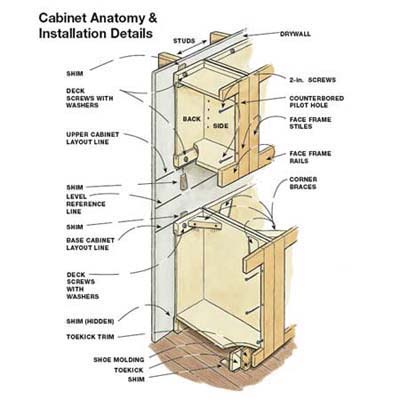 PLANNING AHEAD

• Lay a wood floor before hanging cabinets. "It goes down a lot faster in an empty room," says Tom Silva. Protect it with thick mover's pads during installation. Sheet flooring is more easily damaged, so lay it after the cabinets are in.

•Using a 4-foot level, a framing square, and a straight 2x4, check the walls and corners to see if they are plumb, square, and straight. Note any dips, bub­bles, or angles that will require scribe-fitting, shimming, or alterations of the wall.

• Install electrical lines for the range, dishwasher, garbage disposal, refrigerator, and vent hood. Locate receptacles above your countertop backsplash every 4 feet, and anywhere you plan to use a portable appliance. Also, rough in cabinet lights and their wall-mounted switches.

• Rough in supply and drain lines. Make sure cap is not glued to drain pipe.

Contribute to This Story Below
Cordless drill with bit set

4-in-1 screwdriver

Hammer

Chalk line

Tape measure

Folding rule

Bubble level

Block plane

Compass

Bar clamps

Utility knife

Chisel

Framing square

Ladder
1. Carcass
"Look for a good, heavy box, one with a thick solid back to screw securely to the wall," says Tom. He favors plywood over particleboard of MDF

2. Finishes
Catalyzed lacquers or conversion varnishes are toughest

3. Fasteners
Screws are best, but staples ad brads are typically used

4. Drawers
Dovetail joints and fully extending drawer slides are best

5. Hinges
Cup hinges, also known as European or concealed hingers are eay to adjust

6. Hardwood glue
for securing trim joints

7. Wood shims
for making cabinets plumb and level

8. 2 1/2-inch deck screws with washers
for anchoring cabinets to studs (drywall screws can snap)