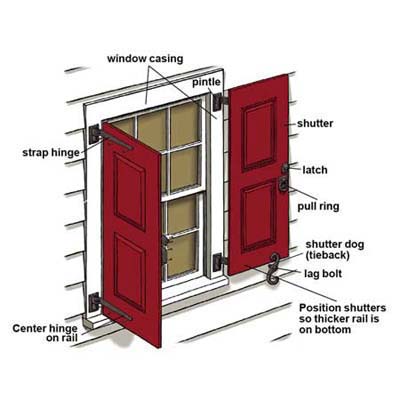 Functional exterior shutters attach to the trim around the window (the casing) and swing into the window opening, resting flush with the casing when closed and latched. When open, the shutters stand proud of the house, held in place by a pivoting metal tieback (also called a shutter dog), a hook, or a catch.

Provided with measurements, companies will custom-make shutters to fit your window openings. Taking the measurement is a critical first step - there should only be a 1?4-inch gap on all sides of the shutters when they?re closed, leaving little margin for error. Positioning the shutters so they sit this way is where most homeowners run into difficulty, says This Old House general contractor Tom Silva. ?Shutters are meant to fit inside the casing,? he explains. ?Many people think they?re supposed to hang outside the casing, but that would make it impossible to close them properly.?

Give yourself a day to get the shutters painted and the windows prepped. Between coats, count the hardware pieces to make sure you have enough of everything for each window. Remove any old shutters on the windows, expecting that you?ll need to touch up some paint, fill with caulk, or just clean out the cobwebs and dead bugs you?ll find back there. You will also need to remove storm windows if you want the shutters to operate.

With everything prepped and ready, the biggest challenge you face is positioning the hinges so the shutters swing straight and close smoothly. This may take some trial and error on the first pair, but the work gets easier once you get the hang of it.