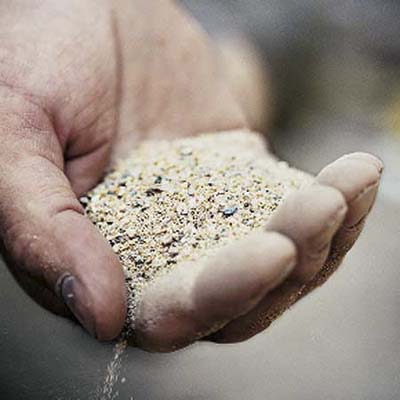 Stucco Recipe
•
½
bag (47 lbs.) portland cement
•6 shovels brick or mason's sand, slightly damp
•1 shovel hydrated lime
•
½
cup acrylic bonding agent
Directions:
Shovel the dry ingredients into a wheelbarrow and blend them with a mortar hoe. Add the acrylic bonding agent, then stir in water, a little at a time, until the mix reaches the consistency of buttercream frosting. Too much water will make it loose and unworkable. Once water is added, the mix will stay usable for 30 to 90 minutes before it starts to harden.
Watch The Weather
Freezing temperatures can ruin wet stucco. Wait for nighttime temperatures that stay above 40 degrees before tackling repairs. Hot, dry, windy weather can also interfere by sucking out moisture the mix needs to cure properly. Work in the shade so the stucco doesn't dry too fast. Between coats, keep the patch moist by covering it with a plastic sheet.
Work Safely
The alkalis in wet cement can cause burns. So when working with fresh stucco, wear gloves or touch the mix only with your tools, not your fingers. Keep a bucket of water nearby to wash any splashes off your skin.
Finish It Right
No patch, no matter how expertly textured, will match the color of the old stucco around it. To do that, you need to apply a pigmented coating over the entire surface. The patch at this house was covered with a thick, sprayed-on acrylic elastomer that bridges and seals hairline cracks. Other acceptable coatings include concrete paints and stains, mineral paints, lime washes, and "fog coats" of pigmented cement. Whichever coating you use, make sure it's alkaline tolerant and permeable to water vapor. Otherwise, it will be peeling off in no time.