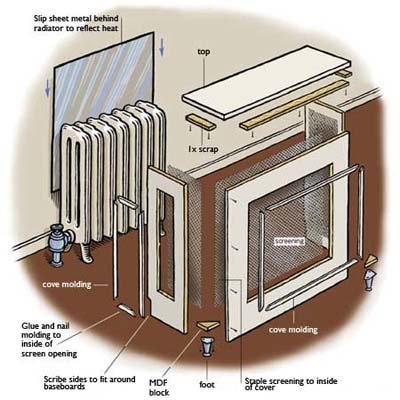 A radiator cover is basically a three-sided box with feet on the bottom and a lid on top. The one shown here is made from MDF (medium density fiberboard), an inexpensive and stable choice for a painted cover. Each side of the box allows heat to radiate outward through a large opening covered by a decorative metal screen. Behind the radiator, a piece of sheet metal helps reflect heat out into the room. You can also add a 1x strip across the open back for stability if it will fit between the radiator and the wall. Note: MDF creates a lot of dust as it's cut, so plan to work over a drop cloth, preferably out of the house. That same wall behind the cover also offers some stability, especially if you scribe the cover's sides to fit against the baseboard. In these circumstances, two feet in the front will hold the cover as it leans on the wall and baseboard for rear support. Otherwise, use four feet. Adjustable feet can be a big help when leveling the cover, as years of dripping water have often warped the floor beneath the radiator. Finding the right feet also offers you the first of several design choices. Screening comes in myriad designs, from austere to ornate. Cove molding on the inner edge of the screen openings gives the cover a more finished appearance. And though we chose to leave the top unadorned for a streamlined modern look, you could edge it with base cap (turned upside down) for a fancier bullnosed profile.
Contribute to This Story Below
More in Plumbing, HVAC & Electrical
Drill/driver,
with ½-inch spade bit and countersink bit

Circular saw

Clamps

Jigsaw

Miter box and handsaw

Tin snips

Staple gun

Scribe,
to contour box around baseboards
1. 3/4-INCH MDF
Measure the front, sides and top of your radiator to determine how much you need.
2. SCREEN
Comes in 3-by-3 foot sheets. Get enough to cover the front opening and two side openings.
3. SHEET METAL
Slides behind the radiator to reflect heat outward.
4. 3/4-INCH MOLDING
to give a finished appearance to the screen openings.
5. 1 5/8-INCH COARSE DRYWALL SCREWS
to fasten the cover's sides and front.
6. 1/2-INCH STAPLES
to attach the screen to the cover.
7. WOOD GLUE
to attach molding.
8. 4d FINISH NAILS
for fastening the molding.
9. 1x SCRAP
to make cleats that hold the cover's top in place.
10. FEET
Check woodworking catalogs for furniture feet in metal or wood. You may need longer screws than the ones provided with the feet in order to fasten them through the thick MDF.