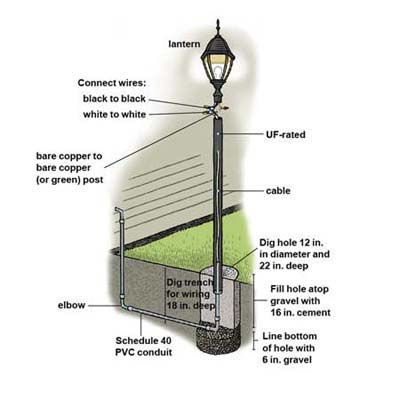 You don't want a lamp that leans like a prizefighter in the 12th round—it must stand tall and straight. Unfortunately, the ground won't always cooperate in supporting the post because rains and frosts and even droughts can shift the soil. So you need to set it in a stable footing to keep it aligned. About 16 inches of concrete will do the trick, with the post set 12 inches into it. You can also add to the stability of the lamp by digging a deeper hole and lining it with about 6 inches of gravel, says This Old House general contractor Tom Silva. Though manufacturers don't require this step, Tom recommends it to help with drainage and minimize frost heaves in colder climates.

To bring the wiring from the breaker box in the house out to the post, you'll need to bury it. The wire we recommend you use is rated for direct burial, but in concrete it needs the protection of PVC conduit. For a double measure of safety, we suggest you protect the wire with conduit for its entire run. That will avoid any nasty surprises should someone dig too close later on. The lamp post is hollow to allow the wires to run without the conduit from the base to the lantern top.

When you run the wire, make sure to leave plenty of extra near the house so there's enough to snake through the wall and reach the circuit-breaker panel inside the house. Then have a licensed electrician check your work, make the connection to the breaker, and install the switch for the light.