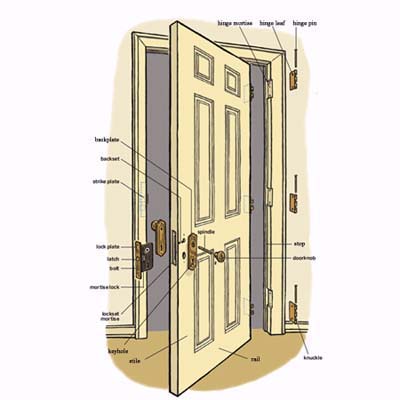 A door that's installed well closes tightly and quietly and doesn't swing open on its own. That means it's been trimmed to leave a very small gap next to the jamb, or, as
This Old House
general contractor Tom Silva explains, "about the width of a nickel." What he means is: Make it just under
⅛
inch. So measuring and trimming the door before installation must be done carefully and precisely.
In the same vein, the various mortises on the door—the recesses in which the hinges sit or the lockset slides—must be carefully cut out. Too deep and the door won't close properly and might spring open. Too shallow and you'll get creaks and scrapes every time you move the thing. The key to a good mortise is a sharp chisel and a steady but light hand. This is not the time to bang and dig with all your strength.
The good thing about doors these days is that you don't have to spring for the expense of solid wood to get its look and feel. Many doors are made from solid medium-density fiberboard (MDF) or are so-called "solid-core" doors, which means they have a veneer of wood or MDF over a core of particleboard or wood pieces. They're not only better at soundproofing than hollow-core doors but more resistant to warping than solid wood. In fact, MDF is one of the most stable materials you can choose. However, if you intend to use a stain or clear finish on your door instead of painting it, you'll want to get one with solid wood or wood veneer.