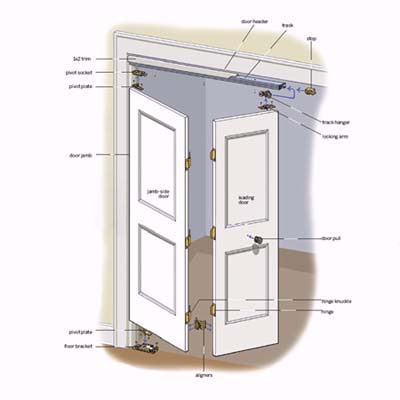 Bifold doors are much like any doors, only connected into pairs with hinges and hung on a track. What makes them look good and work well are a solid, heavy construction and sturdy and carefully adjusted hardware.

The heft of the doors is what keeps them from shuddering when you open them. So it's best to look for solid–core or solid–wood doors, which will feel more substantial than hollow–core doors. (Solid doors are also easier to trim if any part of your door opening is out of square.) Then, in order to handle the weight of these heavier doors, you'll need a track that includes a wheeled mechanism, which allows the doors to glide smoothly rather than shimmy along the track.

The most difficult—and sometimes most frustrating—part of the installation is attaching and adjusting all the hardware. The track, the pivots, the hinges all have to be assembled just so, and it's worth taking the time to double–check every measurement and position to be sure each piece is in the right place and facing the right way.