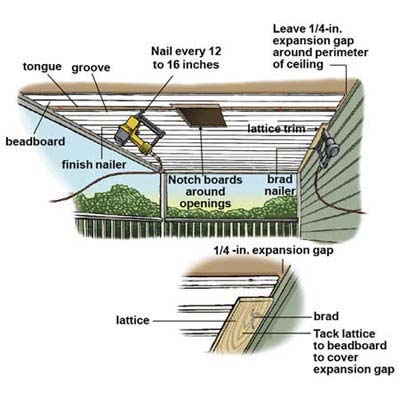 Most porch ceilings are covered, at the least, with plywood—which is the perfect substrate for a high-grade finish like beadboard. However, if for some reason the joists of your porch roof are exposed, don't fret; you can either put up sheets of plywood first or, if your joists run parallel to the house, tack the beadboard right to them.

Here, carpenter John Fitzpatrick of Stone Ridge, New York, shows how to install the beadboard simply and quickly. The process doesn't require a lot of complicated engineering, but you do want to be very careful with your measurements so the boards look neat and even.

One thing you'll really want to consider is renting a couple of nail guns and a compressor, if you don't already have them. Sure, you can stand there all day hammering tiny little finish nails over your head. But you'll thank yourself many times over if you spring for the pneumatic guns—fasteners will go in quickly, straight, and without splitting the wood. And you won't be left with hammer dents and a bunch of nailheads that need setting and filling before you can paint the ceiling.

Using preprimed beadboard will also limit your labor on this project. If you want to be extra vigilant, you can take a page out of This Old House master carpenter Norm Abram's book and also prime the ends of the boards after you cut them. This seals the wood against warp and rot—a good idea in an exterior application. Then, once your ceiling is nailed up and finished, put a fresh coat of paint on everything—for the Victorian-era look, make it sky blue—and your classic porch is done.