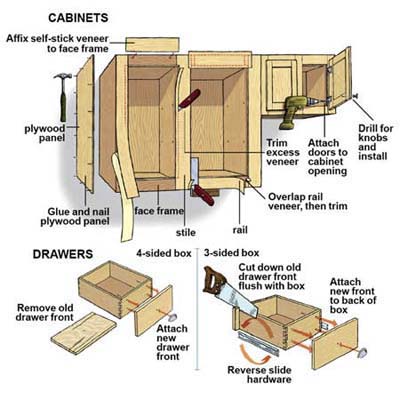 Refacing cabinets is really just a matter of switching out the doors after covering all the exposed parts of the frame with veneer that matches the new finish. This technique works well with cabinets that have partial-overlay doors where the face frame is visible. But you can still reface cabinets with full-overlay doors, which have no face frame, and flush-inset doors, on which the face frame is on the same plane as the doors. In both cases, you have to be careful to order doors that match the size of the ones you're replacing, rather than just measuring the cabinet openings and adding an inch to create an overlap.

Self-stick veneer is easy to work with, since there's no contact cement to contend with. But its adhesive is still strong, making the veneer hard to remove and adjust once you've stuck it in place. So you have to be careful when measuring, cutting, and placing a strip on the cabinet face.

The hardest part of making a refacing job look neat is trimming the veneer with a utility knife once it's in place. It helps to work slowly, to keep your hand braced against the cabinets to steady it, and to always use a sharp blade. Once you've finished the frame and installed the doors, it will be hard to tell that you haven't installed a whole new set of cabinets.