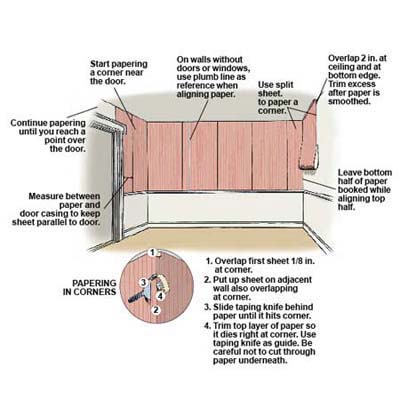 Layout is the key to a good wallpapering job. Paying attention to the order in which the paper goes up ensures that your pattern will stay well-matched and look straight. John Gregoras recommends working in one direction around the room to keep the pattern consistent.

But no matter how good your technique, the pattern between the first and last strip will rarely match up. For that reason, Gregoras always starts his job behind a door, papering out from the corner until he reaches the space above the door— the least conspicuous spot in the room.

Very often, the last strip of paper on a wall isn't a full sheet. So Gregoras always papers the corners with split sheets.

Click enlarge this image to see illustration labels.
Contribute to This Story Below
More in Painting & Finishes
2-foot level

Tape measure

Paper smoother

Seam roller

Razors

Bucket with sponge

Paint roller
1. WALLPAPER
Check the size of the rolls before calculating how much you need. Wallpaper is often priced by the single roll, but can be bought as a continuous double roll. Depending on the size of the pattern's repeat and the width of the rol, a double roll will cover anywhere from 36 to 50 square feet. Many paper companies and retail shops will calculate how much paper you'll need if you provide the square footage of your walls (subtract for windows and doors). Or you can use the wallpaper calculator in the Helpful Info section below.
2. PREMIXED CLEAR WALLPAPER PASTE
Paint that's not mixed correctly can ruin a wallpaper job. So for most papers, it's better to buy premixed products. One gallon is enough for 5 rolls.
3. WALL PRIMER/SIZER
such as R-35 by Roman Adhesives. These products make the wall feel tacky but actually extend the working time of wallpaper paste and make manipulating the paper easier. You'll need 1 gallon per 100 square feet.
4. PAINTER'S TAPE
or masking tape. For holding wallpaper onto switch plates and receptacle covers while the paste dries. One small roll is all you'll need.