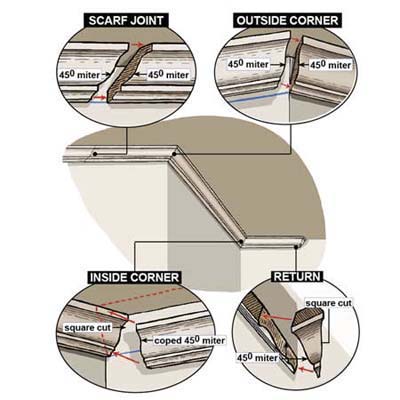 There are some basic rules for installing crown molding that you can pick up anywhere, but the best way to master them is to watch a pro. When we asked Tom Silva to show us how he puts up crown, his 40 years of experience became evident right away. For one thing, he seldom picks up a tape measure, marking his cuts in place whenever possible. "Measuring leaves you open to miscalculations," he says.

He also doesn't lay the molding flat to cut it. Cutting crown flat, though it might seem easier, requires a saw that lets you tilt the blade (for the bevel) and rotate it (for the miter angle). You also need a set of tables to know the correct angles for the cuts.

Instead, Tom uses a simple power miter saw and arranges the material so it sits against the saw fence at the same angle it will be nailed to the wall.

Although the molding has to be upside down in this method, a simple downward cut of the blade set at 45 degrees produces the perfect bevel and miter at once, as you'll see.