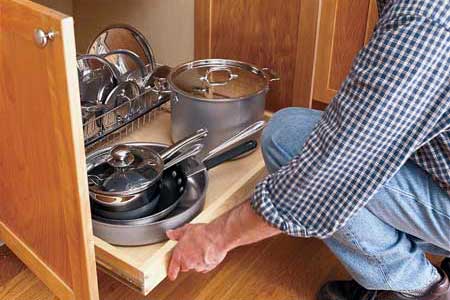 Make the most of your kitchen's existing storage space by installing a pull-out shelf in one - or all - of the base cabinets. The shelf resembles a shallow drawer that glides out for easy access to items stored in the back of the cabinet.

Our shelf was built for a standard 24-inch-deep by 33-inch-wide base cabinet, but its design is adaptable to virtually any size cabinet. It has a 1x4 pine frame and 3/4-inch birch plywood bottom. If you're only building one or two shelves, you can save some money by going to a home center or lumberyard that sells quarter or half sheets of plywood. And in most cases, they'll even cut the plywood to your dimensions.

If you've never attempted a woodworking project as seemingly complex as this one, don't worry. TOH Master Carpenter Norm Abram created a simplified, straightforward design that can be easily constructed with ordinary tools.

Contribute to This Story Below
Power miter saw or backsaw with miter box,
used to crosscut 1x3s

Portable circular saw,
for cutting plywood

Tape measure

Drill-driver with Phillips screwdriver tip

Combination countersink bit,
used to bore screw-pilot holes

1/2-inch spade bit,
for drilling counterbore holes for wood buttons

Combination square,
for marking square cut lines on 1x3s

Bar clamp or pipe clamp,
for assembling the drawer

Whisk broom
1. PINE 1X3's
Shelf frame
2. 3/4-INCH BIRCH PLYWOOD
for shelf bottom; 1/2-inch if using a dado
3. 120-GRIT AND 180-GRIT SANDPAPER4. 1 1/4-INCH DRYWALL SCREWS
for attaching the cleats to cabinet
5. 22-IN. FULL-EXTENSION DRAWER SLIDES
about $20 per pair
6. SPRAY LACQUER7. DUAL-CARTRIDGE RESPIRATOR
worn when spraying lacquer
8. WOOD BUTTONS
to conceal screw heads.
9. 1 5/8-INCH DRYWALL SCREWS
for shelf assembly
10. CARPENTER'S GLUE11. MASONITE OR CARDBOARD SHIMS12. TACK RAG OR COTTON CLOTH13. GOGGLES