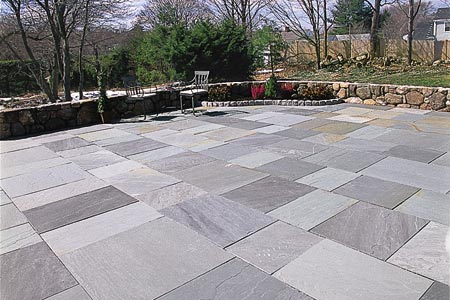 With all the beauty of a well-manicured lawn but without the maintenance, a stone patio makes an elegant addition to any home. A variety of flat stones will do—smooth squares of slate or rough flags of limestone—as long as they can withstand foot traffic and the local climate. For most of his patios,
This Old House
landscaping contractor Roger Cook favors 1
½
- to 2-inch-thick bluestone, a tough sandstone quarried in New York, Pennsylvania and Vermont.
"Setting stone is similar to laying bathroom tile," Roger says. You prepare a base, level each piece, and fill in the joints. But while tile can be set with one hand, laying a 100-pound stone slab takes brawn and is best handled by two people. "You only want to move them once," Roger says, "so take your time to set each stone straight with uniform 3/8-inch gaps between them."
—
Shannon Brady Marin
Contribute to This Story Below
Steel rake,
for spreading stone dust

Push broom,
for sweeping stone dust

Spade shovel,
for digging and spreading

Square shovel,
for measuring and mixing

Wheelbarrow,
for mixing wet material

Builder's level,
for determining pitch

Leveling rod,
for measuring pitch with builder's level

Angle grinder,
for cutting curves in stone

Tape measure

Circle cutter,
for scribing stone

2- and 4-foot levels,
for leveling stones

Pointing trowel,
for adding cement mix and packing in joints

Hand rake,
for leveling wet material

Hand tamper,
for tamping base along walls and siding

Plate compactor,
rent, if needed, to compact base

Circular saw with diamond blade,
for cutting stone

Rubber mallet,
for tapping stone into cement mix

Hand sledge,
for driving stakes and snapping stone

Skid-steer loader,
rent, if needed, to clear and dig base
1. LEATHER GLOVES2. MASON'S TWINE
for establishing reference points between stakes
3. GOGGLES4. DUST MASK5. CARBIDE-TIPPED AWL
for marking stone
6. EAR PROTECTION