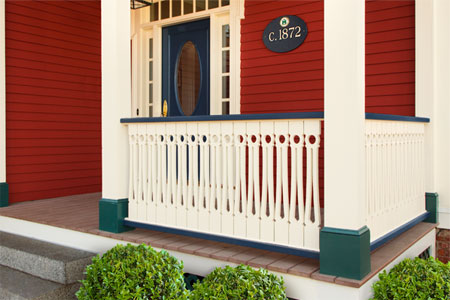 There are few things as inviting as a front porch detailed with fancy millwork. But there's no need to break out the wood lathe to make one: You can fashion your own flatsawn balusters with a jigsaw and a router. The style is a period-perfect choice for Victorian-era houses, yet it allows for a range of designs. That made it a natural fit for the
This Old House
TV project house in Arlington, Massachusetts, where project architect David Whitney came up with this custom pattern for the porch of the 1872 Italianate house.
Follow along as
TOH
general contractor Tom Silva and master carpenter Norm Abram demonstrate how they used the pattern and a homemade jig to construct this ornate balustrade. Sure, they make it look easy—but they also give you everything you need to know to craft your own custom railing.
Download the
cut list to Build a Gingerbread Balustrade
here.
Shown:
Balusters: pine
½
x5, $34 for a 16-foot board. Handrail: chamfered Douglas fir 2x4, about $2.50 per linear foot. Bottom rail: Douglas fir 2x4, about $1.85 per linear foot;
arlcoal.com