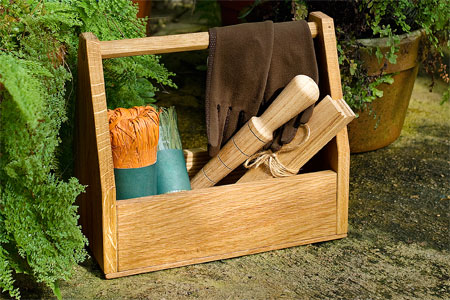 A wood tote is the perfect way to keep your garden tools organized and close at hand in the field. The sturdy example here is fashioned from oak, but rot-resistant cedar is a good choice too—especially if you leave tools out in the rain. Not that we've ever done that...
The bottom is formed from two boards separated by a gap that encourages dirt and grit to escape. The entire piece is finished with linseed oil, which provides a natural sheen and helps the wood keep its color.
If you'd rather spend your time planting, look to buy a tote that's comfortable to carry and the right size for your tools. You'll pay a premium for a box built from solid hardwood or one with a personal inscription. But whether you build or buy, when the growing season draws to a close, you can use your new vessel to collect the fruits (and veggies) of your labor.
Similar to shown: Wood Tool Tote by MiscKDesigns,
etsy.com
Download a
cut-list to build a garden tool tote
here.

Contribute to This Story Below
Tape measure

Straightedge

Pencil

Circular saw or jigsaw

Clamps

Drill/driver

1 5/16-inch Forstner bit

Masking tape

Air compressor

Brad nailer

220-grit sandpaper

Tack cloth

Lint-free rag
1x6 oak for the front and back
Get one 3-foot length.
1x10 oak for the sides
Get one 3-foot length.
1

¼

inch oak dowel for the handle
Get one 3-foot length.
½

-by-6-inch oak scants for the bottom
Get one 4-foot length.
1

½

-inch bradsWood glueWood fillerLinseed oilMineral spirits