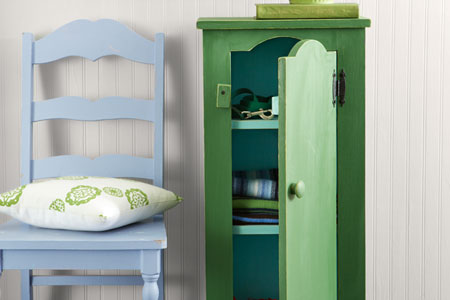 This classic cabinet became popular in the mid-1800s, when heartland homesteaders, far from town centers, needed a handy spot to stockpile preserves. Sometimes you'll see more ornate, antique versions in oak or cherry, but most are painted pine, like this handsome example. If you want to build one, we recommend working with edge-glued panels. They give you enough width to get the face frame and door out of a single piece, and, unlike plywood, the cut edges are smooth and feel finished when painted. If you prefer to spend your time canning, you can certainly buy a cupboard. Typically, the more you pay, the more weathered the finish. But whether you build or buy, don't think you have to keep this versatile accent piece in the kitchen—or stocked with jelly, for that matter.
Shown:
Colonial Primitive Jelly Cabinet, Michelle's Pretty Prims, about $95;
etsy.com

Contribute to This Story Below
Tape measure

Pencil

Clamp

Straightedge

Circular saw

Pneumatic brad nailer

Air compressor

Jigsaw

1-quart paint can

1-gallon paint can

Corrugated cardboard or shims

Drill/driver

⅛

-inch combination countersink bit

⅛

-inch drill bit

220-grit sandpaper

2

½

-inch sash brush
¾

-inch by 18-inch edge-glued-pine panels
Get two 6-footers.
¼

-inch pine plywood
Get one 2-by-4-foot sheet.
1

¼

-inch brad nailsNo. 8 1

¼

-inch wood screwsCabinet knobSurface cabinet hinges
Get two.
Wood glueWood fillerPaint