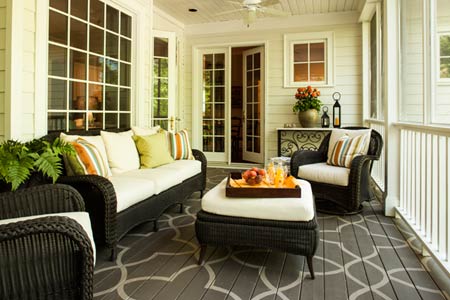 Though the floorboards on this porch were scratched and dinged, Brian Carter, a decorative painter in Atlanta, was glad to have what he calls a built-in ruler. "I've learned to coordinate patterns with plank width so that I can count across. It saves time measuring," he says, "and the rhythm of the planks can reinforce the design." Here, board width guided placement of two templates: a four-petal blossom the width of six boards, and an oval two boards wide. Carter alternated their placement from row to row, yielding a pattern that contrasts with the window and door grids while warming up the space.
Shown:
Benjamin Moore's
Arborcoat Waterborne Exterior Wood Stain tinted to match Northwood Brown 1000 (base coat) and Alexandria Beige HC-77.
Download and print out the template here.
Contribute to This Story Below
Paint tray

Roller

Roller pole

1

½

-inch painter's brush

Scissors

Chalk
Exterior stain, tinted. Get 1 gallon each of a base color and a contrasting colorHeavy paper or posterboardRoller cover (

¼

-inch nap for wood)