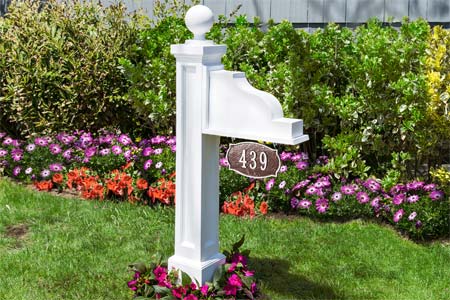 Sure, you could mount your house's numbers next to the front door and call it a day. But to us, a handsome address plaque deserves a display of its own, and reader Lisa Camesano of Newton, Massachusetts, agrees. When Lisa told us she'd like to brush up on some tool basics, we paired her with
TOH
general contractor Tom Silva to put together a decorative signpost that could stand proud in any yard. This piece uses off-the-shelf materials and requires just a few simple cuts, plus glue and screws. "It looks harder to build than it actually was," says Lisa. Perhaps best of all, the hollow prefab post simply slips over a pressure-treated 4×4 that's bolted to a twist-in ground screw, so it doesn't need a concrete base. Read on to see how Tom and Lisa put it all together.
Shown:
Mayne Polymer Mailbox Post, about $80;
Lowe's
. Cambridge Ornate Address Plaque, about $55;
125West.com
. Wirral Bracket, about $55;
architecturaldepot.com
. Standard Premier Ball Finial, about $45;
The Sign Bracket Store
.
Not shown:
Mayne No-Dig Ground Screw, about $30;
Lowe's

Contribute to This Story Below
Measuring tape

Miter saw

Drill/driver

Drill bit

Countersink bit

Lag-screw driver bit

Caulk gun
One 6-inch hollow paneled mailbox post designed to fit over a 4x4 post1 urethane decorative outdoor-grade corbel1 urethane decorative outdoor-grade finial1 metal address plaqueOne 8-foot 1x6 cellular PVC board, to pad out the corbelPolyurethane construction adhesive1

¼

-inch exterior screws2

¼

-inch exterior screwsPaintable caulkAcrylic paintScrew eyes2 S-hooks1 ground screw (with rebar and lag bolts)One 8-foot 4x4 pressure-treated post