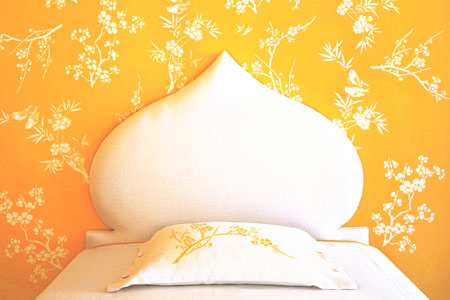 Stencils lend themselves to wallpaper-like repeats. But combine a few different ones and you can create a custom pattern shaped to surround and highlight a favorite feature of your room. Once you've practiced stenciling on paper—or in a spot that's easy to repaint—the work goes quickly, with results so magical that you may end up stenciling around every bed in the house. Want one more custom touch? Use fabric paint to stencil a coordinated pillow sham.

Contribute to This Story Below
More in Painting & Finishes
Small foam roller

and/or Stencil brush
1. Flat latex for base coat2. Semigloss latex for stenciling3. Repositionable adhesive4. Stencils. Get three or more of complementary patterns
Stencils available at craft and paint stores. Used here: JA114, JA138 and JA47A, TP31 by The Stencil Library, (from $26 each; 
stencil-library.com
).