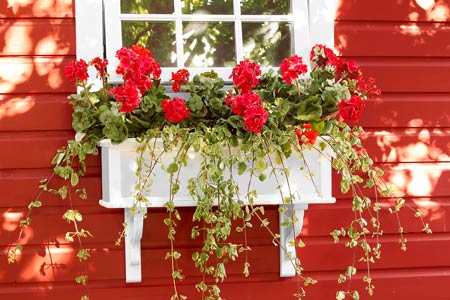 A window box bursting with blossoms will brighten any window, from inside or out. If you buy a stock one, you'll have your choice of designs, but you'll also be limited to standard lengths—typically 2 to 6 feet, in 6-inch increments.

Building the paneled box shown here offers you the chance to tailor your planter to the width of your window and select molding to match your home's style. PVC boards come in white but can be painted any color. Either way, they mimic the look of painted wood without being a target for rot and mold. They're available at home centers in the same dimensions as traditional lumber. If you prefer to work in wood, choose a water-resistant species, like teak or cedar.
Contribute to This Story Below
Tape measure

Sliding compound miter saw or a circular saw

Clamps

Brad nailer

Drill/driver

½

-inch spade bit to make the drainage holes

¼

-inch bit to drill pilot holes into a wood-frame house

Masonry bit to drill pilot holes into a stone or brick house

4-foot level to make sure the brackets are level
1x10 PVC board
for the box frame. Get a 12-foot length.
1

⅛

-by-1

⅛

-inch PVC outside-corner molding
for the vertical trim. Get an 8-foot length.
PVC cap molding
for the top and bottom. Get two 8-foot lengths.
1

½

-inch brads
for securing the box frame
¾

-inch brads
for securing the molding
⅜

-by 3-inch lag screws
to secure the brackets to the house
1

¼

-inch deck screws
to secure the window box to the brackets
1 pair of weight-bearing window-box support bracketsMasonry anchors
for stone or brick walls
PVC cementCaulk