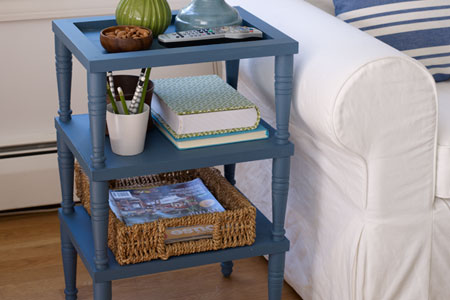 Any couch potato knows that a handy side table is an essential ally for a lazy Sunday morning. You won't even have to get off your duff for very long to make the one shown here, thanks to a clever design by
This Old House
general contractor Tom Silva. He reimagined wood panels from an art-supply store as table surfaces, with two flipped upside down and the top one right-side up for a tray-like appearance, and connected them with turned legs to create this airy yet sturdy piece. With three easy-access surfaces for stashing odds and ends, you'll have no excuse for losing the remote in the sofa cushions ever again.
Panels:
12-by-16-inch Artists' Wood Panels, $14 each;
Utrecht Art Supplies
Legs (similar to shown):
Waddell 6-inch Pine Traditional Wood Table Legs, $2.98 each;
Lowe's
Paint (similar to shown):
Behr's English Channel;
Behr
Contribute to This Story Below
Tape measure

Locking pliers

Drill/driver

1/4-inch drill bit

3/32-inch drill bit

Miter saw

Hammer

Paintbrushes
Artists' wood panels,

⅞

by 12 by 16 inches
Get three.
Table legs, 6 to 8 inches long
Get twelve.
5/16-by-2

½

-inch wood-to-wood dowel screws
Get eight.
2

½

-inch deck screws
Get four.
¼

-inch wood dowel for plugs
Get one 3-foot section.
Wood glueWood filler220-grit sandpaperPrimer and paint of your choice