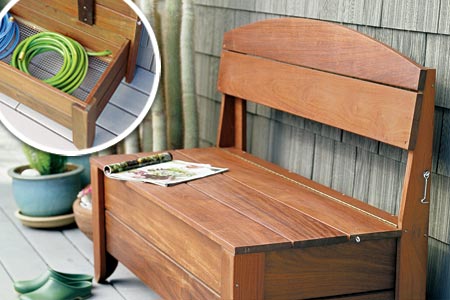 An outdoor bench makes a convenient place to plop down while you remove muddy boots. You'll rest even easier knowing it can store a garden hose (or two) and other less-than-attractive supplies.
You can buy a bench that echoes your home's style, but finding an affordable one may be harder than it sounds. Or you can opt to build one like this from weather-resistant cedar or ipe. Lift up the seat and you'll find a floor made of hardware cloth, a galvanized metal screen that allows water to escape, so you don't have to worry about storing a hose before it drains. The angled backrest, with its decorative curve, adds to the inviting aesthetic of a piece that's as handsome as it is handy. Read on to learn how to build the piece.
Download the cut list to build a porch storage bench.