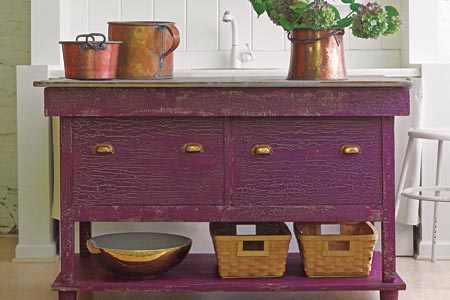 Vintage-furniture hounds spend years tracking down painted pieces that have just the right patina, its cracked layers of color just oozing with charm. You can shortcut that journey with contrasting shades of flat latex paint and a special medium that comes out of the can as a milky liquid, goes on clear, and shrinks and cracks the paint color layered on top of it, revealing glimpses of the base shade. Crackle medium ages furniture right before your eyes. Which means you can create your own version of a piece's history, with colors of your choosing, whether you're aging one that's actually old or not.
Paint:
Benjamin Moore's
Sweet Pea (base coat) and Autumn Purple (top coat)
Contribute to This Story Below
More in Painting & Finishes
Damp sponge to clean off dirt

3-inch nylon-polyester paintbrushes Get two 
so that you'll have a clean one ready for the top coat.

Cut bucket and liners
1. Latex primer-sealer to create a good surface for the base coat

2. Crackle medium. We used Sherwin-Williams' Faux Impressions Crackle.3. Latex paint in two colors. Choose high-contrast colors for the most dramatic effect. For best results, be sure to use a flat or matte finish for the bottom coat. Eggshell will work for the top coat, but nothing shinier.

4. Water-based polyurethane (optional) to clear-coat and protect the crackle finish. Satin will look the best.