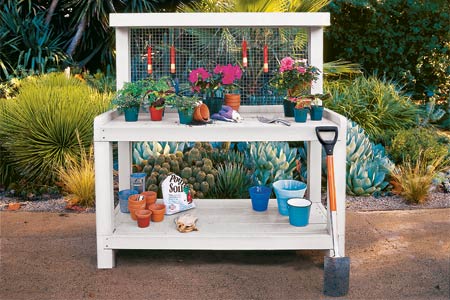 Even if you love gardening, repotting plants or dividing flats can feel like a real chore if you have to scavenge for supplies in the dark corners of the garage. Park them on a dedicated workstation, however, and you'll never waste time hunting them down again. Our simple, three-tier potting bench features a wire mesh backing that keeps your favorite hand tools right at your fingertips. If you plan to leave it outdoors, make sure you build it from cedar or exterior-grade lumber. An indoor bench should get a weather-resistant finish, at the very least, to prevent water, soil, and fertilizer from damaging the surface. And for those of you who don't want to DIY this project, we have good news: There are potting benches on the market that suit all budgets. Just make sure the one you buy has a work surface at a comfortable height for you. Once you start using it, you'll wonder how you ever did without this green thumb's staple.
Download a printable
potting bench cut list.

Contribute to This Story Below
Jigsaw

Miter saw

Drill/driver

Staple gun
Pressure-treated 2x4s:
Get eight 6-foot boards.
Pressure-treated 2x6s:
Get five 6-foot boards.
Pressure-treated 2x2s:
Get two 6-foot boards.
5/4x6 deck boards:
Get one 8-foot board.
5/4x4 deck boards:
Get one 8-foot board.
Galvanized wire mesh:
Get a piece at least 22 by 34 inches.
3-inch stainless-steel trim-head screws2

½

-inch stainless steel trim-head screws

⅜

-inch staples