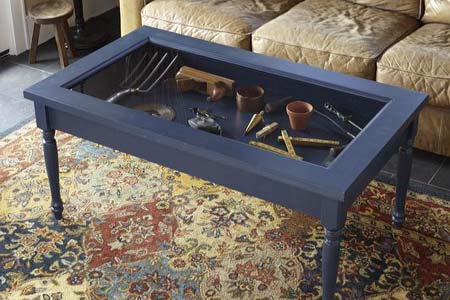 A cardboard box buried in the garage is no home for your grandfather's hand tools or your own hard-won collectibles. Why not showcase them properly, in a coffee table with a sunken inset and a removable top that you build yourself? With little more than a few lengths of lumber, some stock legs, and a sheet of acrylic, you'll have a fine piece of furniture that's fittingly handsome for the history on display.
See all the
Hammer It Out
projects.
Paint:
Valspar's
Royal Navy
Table legs:
Waddell 21
¼
-inch Country Pine Traditional Wood Table Leg,
Lowe's
Contribute to This Story Below
Miter saw

Jigsaw

Drill/driver fitted with a countersink drill bit

Pneumatic nail gun
1.

½

-inch plywood to make the floor.
Get a 24-by-48-inch piece.
2. Baseboard to make the tabletop fame.
Get two 8-foot boards.
3. 1x5 to make the apron.
Get two 8-foot boards.
4. 1x1 to make the cleats and the lip of the tabletop frame.
Get three 8-foot boards.
5. Table legs.
Get four.
6. Acrylic sheet.
Get a piece at least 30 by 60 inches.
7. 1-inch nails8. 2-inch nails9. 1

¼

-inch screws10. 2-inch screws11. Permanent marker12. Wood glue13. A cyanoacrylate glue,
such as Super Glue