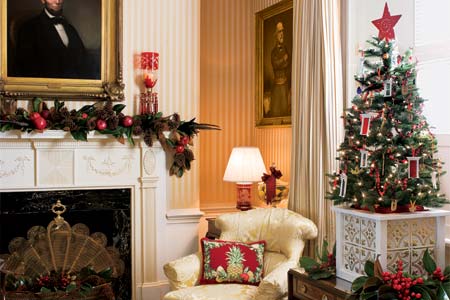 While ceiling-high evergreens might be the norm today, up until the late 19th century most Christmas trees fit tidily on a table. But the fact that they were small doesn't mean they couldn't make a big statement. Just check out our festive take, shown here. Set inside a box clad with tin ceiling tiles, and adorned with keyhole hardware and dollhouse doors and windows, this tree pays homage to the historic house in which it resides. Here's how to make the homey box to hold a potted live tree.

Contribute to This Story Below
Jigsaw, circular saw, or handsaw to cut plywood

Tin snips

Pneumatic pin nailer

Miter saw to fit cap

Combination square to lay out measurements and marks

Tape measure

1

½

-inch paintbrush

Protective gloves
1. 1x1
Get one 8-foot length.
2. 1x2
Get one 8-foot length.
3.

¼

-inch plywood
Get a half sheet and it cut into five pieces: four for the box sides and one for the box's bottom.
4.

⅝

-inch nails
for tacking in plywood.
5. 1-inch nails
for fastening 1x material.
6. Wood glue
7. Tin ceiling panel8. Vinyl adhesive caulk9. 1x4
Get one 6-foot length.
10. 120-grit sandpaper11. Latex primer12. Latex paint
in a color of your choice