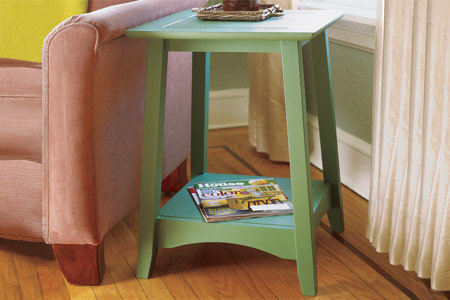 Butch and Sundance. Bonnie and Clyde. Starsky and Hutch. Like any memorable duo, an armchair is lost without a tag-along table as a sidekick. Fulfilling both form and function, a side table makes for a nice pairing and serves as a great place to set your drink. And a table like the one at right, which cloaks Arts and Crafts bones in an unexpected color, bucks tradition in favor of a fresh look that fits right in with any setting. A slew of retailers offer premade options along these lines, but the tables are also available in myriad styles and finishes. Or if you'd rather do it yourself, no problem: For under $100, you can easily cut and assemble one of your own, as you can see on the following page. Whichever choice you make, you're sure to appreciate not having to hold your drink in your lap.
Shown:
Whitewood Bomby Tall Unfinished End Table by International Concepts, $130;
coffeetablesandendtables.com
Paint: Benjamin Moore's Avon Green (HC-126), $10 per quart;
benjaminmoore.com
Contribute to This Story Below
Miter saw

Circular saw, to cut the tabletop and shelf

Jigsaw, to cut the decorative curves

Pull saw, to cut the plugs

Drill/driver, fitted with a combination countersink bit

Clamps
1. Wood glue2. 2-inch deck screws3. 3/8-inch screw-hole wood plugs4. 2x2
Get two 6-foot lengths to make the legs.
5. 1x2
Get one 8-foot length to make the tabletop skirt and upper crosspieces.
6. 1x3
Get one 8-foot length to make the shelf skirt and lower crosspieces.
7.

¾

-inch plywood
Get a half sheet to make the tabletop and shelf.