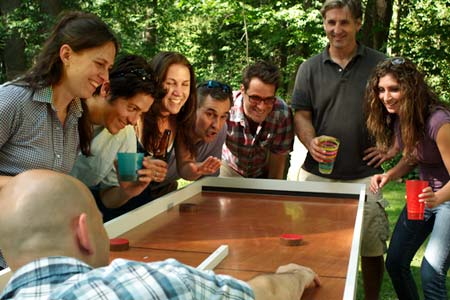 Maybe you've never visited the Shuffleboard Hall of Fame. And perhaps you didn't know that the sport's rankings once occupied as much space in New York's morning papers as prize fighting and baseball. But surely you've enjoyed a match somewhere along the line and experienced the joy of knocking your opponent's puck into oblivion.
Now you can take that competitive spirit to tabletop heights with the
TOH
version, Ricochet, which employs an elastic band and a hollow-core door to transform the traditional playing surface into a challenging U shape.
TOH's
game experts, aka Team Saturday, walk you through the steps in a
video tutorial
. Once the surface has been buffed and the bets are placed, you'll wonder why this surprisingly rowdy game ever lost its luster.