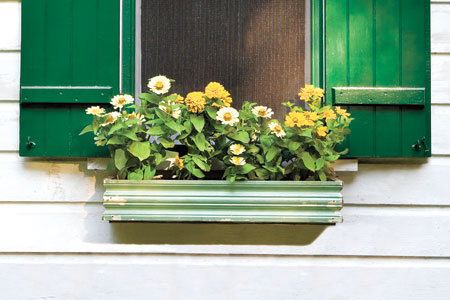 All you need to build a cottage-style window box is a few feet of 6- or 8-inch-wide trim (choose straight baseboard or casing, rather than angled crown), one 2-by-2-foot sheet of
½
-inch exterior plywood, water-resistant wood glue, and a shallow plastic planter to cradle the soil and flowers. Because most old trim is covered in toxic lead paint, either remove the finish with a wet stripper or seal it under a clear top coat. This is an easy one-person project, but it's more fun with a helper.
Contribute to This Story Below
Circular saw

Hammer and nailset

Clamps

Drill driver fitted with a

½

-inch paddle bit

Miter saw

Gloves

Mask

Goggles
1. 6- or 8-inch salvaged baseboard or casing2. Plastic planter
The planter can be shallower than the window box but should match it in length.
3. Water-resistant wood glue4.

½

-inch exterior plywood
Get a 2-by-2-foot piece.
5. 6d finish nails6. Clear spar urethane