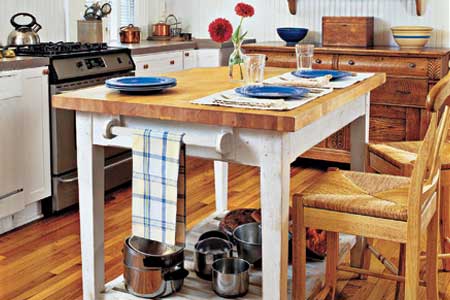 If you're going for homey and cozy in your kitchen, skip the built-in cabinet-base island and instead make the central work area a furniturelike table with a butcher-block counter. Because these thick wood-slab tops have their edge or end grain exposed, they are stronger than wood laid on the flat. That means they resist warping and nicks better than laminate and almost as well as stone.

With this durability comes an old-fashioned warmth. The trend for wood and furniture in the kitchen is in full swing, and butcher-block islands mimicking 19th-century worktables are perfect for toning down the coldness of stone counters and metal appliances in modern cook spaces. You can bring this classic aesthetic to your kitchen by constructing a prep island from easy-to-buy materials or choosing one of the dozens of styles available through retailers and furniture makers. Whichever path you choose, you'll end up with an island that can be at the center of the cooking action and still take whatever you can dish out.
Contribute to This Story Below
Jigsaw

Speed square

Drill/driver,

½

-inch bit, and 1-inch forstner bit

Caulk gun

Putty knife

Paintbrush
1. Butcher block.
Order a 36-by-48-inch block.
2. Poplar 2x4
to build the legs. Get four 6-footers.
3. Poplar 2x6
to build the apron. Get two 6-footers.
4. Poplar 2x3
to frame the bottom shelf. Get an 8-footer and a 6-footer.
5. Poplar 2x2
to build the shelf slats. Get nine 8-footers.
6. Poplar 1x3
to build the crosspieces and bracket for the towel bar. Get two 6-footers.
7. 1-inch dowel
to build a towel bar.
8. Silicone caulk
to adhere the butcher-block to the crosspieces and frame.
9. Surface-mounted corner brackets
to hold the butcher block, apron, and legs together. Get four.
10. 2

¼

-inch trim-head screws11. 2

½

-inch trim-head screws12. 3

½

-inch trim-head screws13. 2-inch deck screws
to attach the butcher block.
14. 1-inch fender washers15. Wood glue16. Wood filler17. Fine-grit sandpaper18. Primer and paint