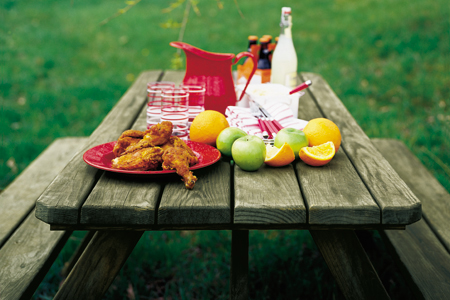 If you wanted to set up a folding table and chairs for your barbecue guests, party planners say you'd need to allot 10 square feet per person to create enough access. Do that on the average deck or patio and your Fourth of July celebration will get so chaotic that it may end with the wrong kind of fireworks. A classic picnic table with attached benches is the perfect solution. This staple of backyards and parks—with its elbow-to-elbow dining and climb-over seating—works in all terrains, so you can move off the deck and onto the grass.

Contribute to This Story Below
Jigsaw

Drill/driver, fitted with a 7/16-inch drill bit

Adjustable wrench
1. Pressure-treated 2x8
You'll need three 8-footers to build the bench crosspieces and legs.
2. Pressure-treated 2x6
You'll need nine 6-footers to build the top and benches.
3. Pressure-treated 2x4
You'll need three 6-footers to build the top crosspieces and the braces under the top and bench.
4. 3/8 x 3

½

-inch exterior grade carriage bolts
to attach the bench crosspieces to the legs. You'll need 8.
5. 3/8-inch washers and nuts.
You'll need 8 of each.
6. 2

½

-inch deck screws
to attach the top, benches and braces.