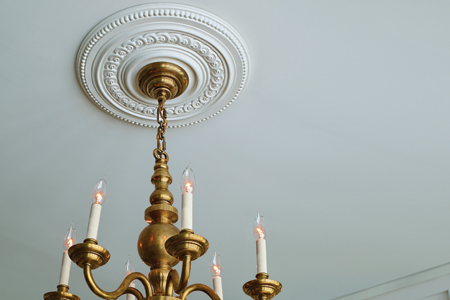 If you would like to add a touch of the baroque to your home without going all broke, consider putting up a ceiling medallion. A decorative disk centered overhead can turn a plain expanse of drywall into an architectural focal point. And luckily, what was once made from heavy, fragile plaster is now available in molded polyurethane—lightweight, more forgiving, and much easier on the wallet. As This Old House senior technical editor Mark Powers shows on the following pages, installing a medallion means little more than a morning on a ladder with a tube of construction adhesive. Add a nice chandelier to the equation and your abode will start to feel downright fancy. (Just resist the urge to start dancing a minuet.)

Contribute to This Story Below
Abrasive sponge for cleaning the ceiling

Compass

Drill/driver fitted with 3/8-inch paddle bit

Drywall saw

Caulk gun

Wire strippers for installing the light fixture

Paintbrush
1. Ceiling Medallion
Available online or in home centers, in diameters ranging from less than 10 inches to more than 70 inches. You can order a medallion with a center hole precut or get one without a hole and cut it yourself.
2. Mild Dishwashing Soap
to clean the ceiling in preparation for the installation.
3. Medium-grit Sandpaper
to smooth the medallion's center cutout.
4. Threaded Nipple
to attach the light fixture to the ceiling's junction box. Most fixtures come with the appropriate nipple, but you may need to get a longer one to account for the thickness of the medallion.
5. Adhesive Caulk
to stick the medallion to the ceiling, fill the screw holes, and cover voids between the medallion and the ceiling, if necessary. Choose a paintable caulk such as Phenoseal Does It All or Liquid Nails All-Purpose Adhesive Caulk.
6. Trim-head Screws
to fasten the medallion to the ceiling while the adhesive caulk adheres; 3
½
-inch screws should be long enough, though thicker medallions may require longer screws.
7. Paint
to match the ceiling or the trim in the room. A flat finish will show off the carved details best.
8. Wire Nuts
to connect the light fixture.