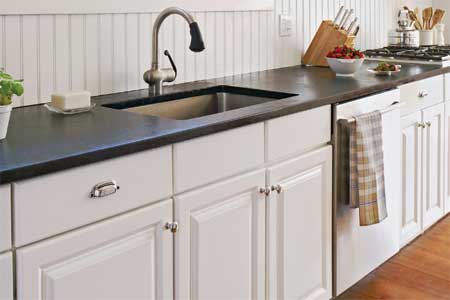 Too often the price of granite or engineered stone is out of reach of the average renovation budget. Not soapstone. This traditional kitchen topper is easy for a do-it-yourselfer to install, meaning you could save big on the labor, which usually accounts for half the cost. Available to be shipped nationwide from companies such as
M. Teixiera Soapstone
, where this counter came from, and starting at less than $25 per square foot, soapstone is a great, inexpensive DIY project.
Relative to other stones, soapstone is soft enough that it doesn't require special tools to machine it. You likely already have what you need to cut and shape it: a circular saw, a jigsaw, a drill/driver, a grinder, and a sander. As
This Old House
senior technical editor Mark Powers shows in the following steps, installing a new slab will take just an afternoon or two.