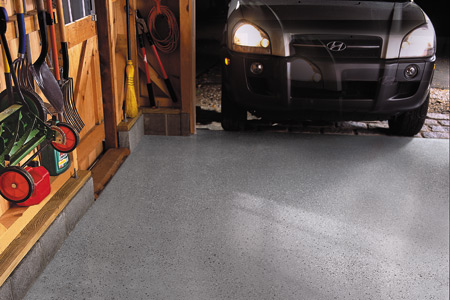 You finally got the tools hanging neatly on an outlined pegboard, and all the paint is organized in carefully labeled cabinets. But now your car is jealous, sitting like a lump on the oily, dirty concrete slab. You still need to put the finishing touch on the garage cleanup: a colorful, shiny epoxy floor coating that will have you—and your car—feeling like you're driving into a showroom every time you come home.
Epoxy not only tops off the pro look but also resists oil stains, beads water, and wipes clean like a kitchen counter. Color chips and custom paint colors hide annoying imperfections in the concrete, and antiskid additives give you the grip you need on a snowy day. As
This Old House
technical editor Mark Powers shows on the following pages, you just need a weekend to sweep the dirt out and paint the epoxy on. Then the garage will finally be a space worth driving up to—and showing off.
Gray Flannel Epoxy Garage Floor Coating with granite color flecks, from
Quikrete