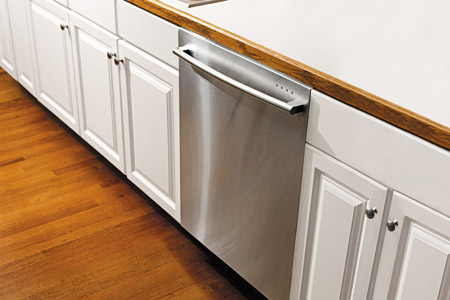 Boy, the retired couple you bought your house from left behind one incredibly energy-efficient dishwasher! Okay, maybe just efficient to them, because they didn't need to run it more than once a week and only had a full load when the grandkids came for Thanksgiving. But you—you pack that thing with pots, plates, and glasses every night, sometimes again in the morning. Its age is starting to show, especially in your electric and water bills.

Time to switch it out for a new Energy Star–qualified dishwasher, which can save you more than $30 a year on power and almost 500 gallons of water. These units have sensors that self-adjust to wash with just the right amount of water. And today's models are so good at scrubbing, you don't have to prerinse in the sink—which translates to even less of your hard-earned money and time down the drain. But the biggest cost-saver of all is that you can install one yourself in an afternoon, as This Old House technical editor Mark Powers demonstrates on the following pages. No plumber, no electrician—and no worries that you're squandering your retirement money on a load of clean dishes.

Contribute to This Story Below
Screwdrivers

Drill/driver
fitted with 1 1/4-inch and 2-inch hole saws

1-inch spade bit

Pliers

Adjustable wrench

Tube Bending Springs

Close-quarter tubing cutter

Torpedo level

Wire Strippers
1. DISHWASHER
The majority of built-in dishwashers come in only two sizes: 24 inches wide and 18 inches wide, both sized to fit under a standard 25-inch-deep and 36-inch-high counter. (Be sure to get a built-in dishwasher, not a portable one, which uses temporary connections at a sink tap and outlet.) Look for the Energy Star label on any model you buy—the criteria for dishwashers became more stringent in January 2007.
2. 3/8-TO-

½

-INCH BRASS ELBOW
to make the turn from the dishwasher's inlet to the copper supply line. This is a standard part for dishwashers and may be included in a dishwasher installation kit.
3. TEFLON TAPE 4.

½

-INCH SOFT COPPER TUBING
to bring water to the dishwasher. (The measurement refers to the pipe's outside diameter.) A 10-foot coil should be plenty.
5. TWO

½

-INCH COMPRESSION FITTINGS
The number also refers to outside diameter. Each includes a brass ferrule (or compression sleeve) and a compression nut.
6. ELECTRICAL WIRE NUTS to connect wire ends.
Get ones that will fit two 12-gauge wires—either yellow or red.
7. CABLE CLAMP
to secure the electrical cable to the junction box on the dishwasher.
8. NO. 6 HOSE CLAMP
to attach the dishwasher's 5⁄8-inch drain hose to the sink's drain tailpiece.
9. PLUMBER'S STRAPPING
to hang the drain hose on the cabinet wall.