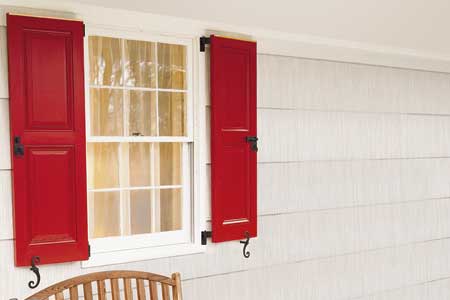 So what if you want to crank up the Bob Seger, slip on the dark sunglasses, turn up your collar, and slide across the living room floor in nothing but your underpants and oxford shirt? Go right ahead—what you do in the privacy of your own home is, frankly, nobody's beeswax. Just do the neighbors a favor and shutter the windows.

Functional exterior shutters, which swing shut when you need them to, will do the job quite nicely. As This Old House technical editor Mark Powers shows on the following pages, you could put several pairs up in a weekend. Then, aside from privacy from prying eyes, you'll also get relief from the summer heat, a barrier against storm winds, and a sure defense against arrow attacks (if you're a 17-century colonist, that is).

The bonus: Studded with hammered-iron hardware and a bright coat of paint, shutters will dress up the front of your house and add to its curb appeal. Which, we're guessing, is a better way to attract attention to your house than your half-dressed homage to Tom Cruise.
Contribute to This Story Below
5-In-1 Painter's Tool
to help with any necessary scraping or casing touch-ups

Caulk Gun

Sawhorses

Paintbrush and Roller

Hammer

Drill/Driver with a set of common driving and drill bits

4-Foot Level
to align shutters and hardware

Adjustable Wrench
1. Exterior Shutters
Home centers sell many exterior shutters in stock sizes, but if you want them to be movable and fit snugly in the window opening, they have to be custom-made to your specifications. You will need to order three to six weeks in advance. Many manufacturers have online catalogs and will talk you through choosing a style appropriate to your house. Look for models made from rot-resistant wood, such as mahogany or cedar, with strong ?pegged? mortise-and-tenon joints. If you plan to paint the shutters, order them primed.
2. Hinges
Ask for recommendations on period-appropriate hardware for the shutters you?ve chosen, beginning with hinges. Beware, though:Some hinges require chiseling out mortises on the shutters and casing. Depending on the detail of the trim around the window, you may also have to decide between hinges that rest on the casing or just outside it. So make sure you and the manufacturer?s rep both understand the layout of your window casings. If you?ll be attaching hardware to masonry, ask for masonry fasteners.
3. Tiebacks
or other latching hardware to hold the shutters open. Shutter dogs are traditional, but simpler catches, spring latches, or hooks and staples are also available.
4. Pulls & Latches
To help you grab the shutters from inside and lock them when shut.
5. Capping
to protect the vulnerable top edge of the shutters from the elements (optional).
6. Exterior Paint7. Exterior Painter's Caulk8. Shims9. Silicone Adhesive
To attach the capping to the top of the shutter.