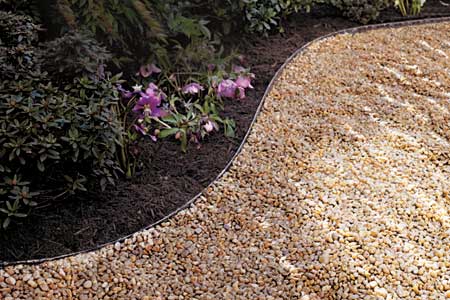 What's the point of a well-maintained yard if trying to get around it means trampling the marigolds and leaving your paw prints in the perfectly clipped lawn? The best landscapes guide amblers with paths—well-defined ribbons that say, "Hey, go this way," and, gently, "Keep off the grass."

Sure, you could spend several days and many dollars putting in a walkway made of cobbles or bluestone, but a simple gravel trail won't break your back—or your budget. Gravel (as well as crushed brick or crushed shell) is a traditional path material found in formal gardens throughout Europe and Asia, and takes little skill to install. An afternoon to get it down (as demonstrated here by This Old House technical editor Mark Powers), and you'll soon have a natural-looking, foliage-free way to walk through your perfect landscape.

Contribute to This Story Below
Square spade

Steel rake

Tamper

Utility knife

Hammer and block
Shopping ListEDGING:
Three-inch edging is tall enough to contain a path with a couple of inches of stone. To line both sides of the path, you'll need enough edging to equal twice its length.
GRAVEL:
Most home centers carry gravel in bags of
½
or 1 cubic foot. Buying stone in bulk from a landscape center or stone yard is a better option for longer paths. For a 2-inch-deep layer of stone, you'll need about 5 cubic feet for every 10 feet of length on a 3-foot-wide path. View our gravel gallery,
The Stone Yard
.
STONE PACK:
Stone dust mixed with crushed
¾
-inch stones. Because it gets tamped down, you'll need more pack than gravel—2
½
inches to compact to 2 inches, or about 6 or 7 cubic feet to cover every 10 feet of path.
LANDSCAPE FABRIC:
A shiny black woven nylon that keeps weeds from coming up through the gravel and keeps the gravel from settling into the stone pack, landscape fabric comes in 3-foot-wide rolls.