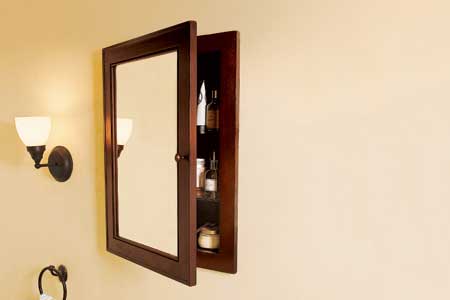 The toothbrush is on the toilet tank, the Speed Stick's in the soap dish, and every bottle cluttering the puddles around the sink has a little mildewed ring marking its spot. Your morning ritual would feel so much less chaotic if all those balms and baubles were lined up neatly in rows on the shelves of a medicine cabinet. Better yet, make it a recessed model, which tucks securely and discreetly into the wall cavity, and you won't even hit your head when you lean over to splash your face on a sleepy morning.

As This Old House technical editor Mark Powers shows on the following pages, you can install your own cabinet in an afternoon. Most come pre-assembled; you just cut a hole in the wall and create a wood frame into which the cabinet slides. Thus you'll upgrade with a beautiful new mirror and storage space—while keeping a healthy separation between toothbrush and toilet.
Contribute to This Story Below
Stud finder

Utility knife,
to score drywall

Keyhole saw,
to cut openings in wall

Flashlight

Level

Hacksaw blade,
to cut drywall screws

Handsaw (to cut studs

Rasp,
to tailor the drywall opening to fit

Drill/driver
1. Medicine Cabinet: Look specifically for cabinets labeled "recessed," though a surface-mount cabinet can be converted into a recessed one, as long as its sides can slip into the wall cavity without obstruction.

2. 2x4 Lumber: For the blocking, which makes the frame to which you'll fasten the cabinet. Use scraps if you have them, or one 8- to 10-foot piece should be enough.

3. Construction Adhesive: To help attach the blocking.

4. 21/2-inch Decking Screws: To fasten th blocking to the studs.

5. 11/2-inch Drywall Screws: To hold the cut drywall edges to the blocking and to mount the cabinet.

6. Caulk (as needed): To fill gaps between the cabinet frame and the wall.