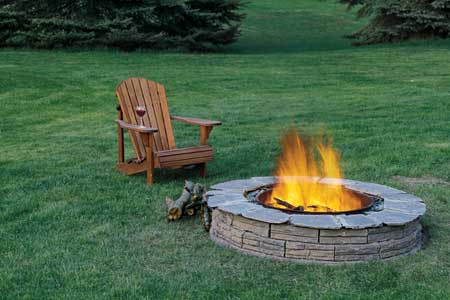 Outdoor fires are so hot right now. Seriously. Mankind has called the hearth home for the centuries, it's true, but these days people are going ultra-retro and getting their heat from stone-walled pits set into the earth. And, why not? On cool summer nights, you can melt marshmallows and nibble s'mores while you lounge in an Adirondack chair, feet propped up on the rock ledge. So if you really want to light up right, do it in style. Take a few days to build your very own ring of fire.
Find this step-by-step process beyond your expertise? Consider purchasing one of these manufactured fire pits.

Contribute to This Story Below
Brick hammer

Cold chisel

Spade

Hoe

Steel rake

Tamper

2-foot level

4-foot level

Mallet

Caulk gun

Trowel

Grinder
1. CAST-CONCRETE WALL STONES
2. CAPSTONES3. STEEL CAMPFIRE RING
The one we used here is from
MARKSTAAR
4. 3/4-INCH DRAINAGE GRAVEL5. PATIO BASE
(stone dust)
6. MASONRY ADHESIVE7. READY-MIX MORTAR
(if needed) to cement a natural-stone cap onto the wall. A 40-pound bag is enough.
8. CONCRETE BONDING ADDITIVE
(aka "milk") to make the mortar more flexible.