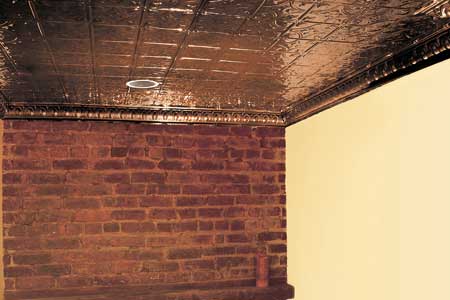 So you're soaking in the tub, you've got the candles going, you look up, and what do you see? Nothing. Well, technically, it's something—it's a plain, white ceiling. However, if you had nicely decorated copper panels overhead...well, that dancing candlelight would look sweet.

As This Old House technical editor Mark Powers shows here, in less than a weekend you could turn your blank ceiling into an architectural showpiece of pressed metal—with plenty of time left for a Sunday soak. And why stop there? Put some sleek steel above the kitchen cabinets, or take a classic Victorian-era pattern and paint it white to make a lacy canopy in your bedroom.

So before your next bubble bath, jot down some measurements and soon you'll have all the parts for your new ceiling in hand. Then all you'll have to do is raise it up and lie back.
Contribute to This Story Below
Circular saw,
for cutting plywood sheets

Jigsaw,
for cutting holes in plywood

Drill/driver

Chalk line,
for snapping layout lines

Gloves,
used to protect hands from sharp-edged ceiling panels

Brad nailer and compressor,
rent for about $40 a day

Compass,
used to mark round cutout holes

Framing square,
used to mark square or rectangular cutout holes

Tin snips,
for cutting ceiling panels

Hammer

4-foot level,
used to mark cornice layout lines on wall
1. Pressed-metal ceiling panels
come in 2x2- or 2x4-foot sizes
2. Press-metal cornice
come in 4-foot-long sections
3. 3/8-inch plywood
creates solid nailing surface for ceiling panels
4. 2 1/2-inch decking screws
for attaching the plywood underlayment
5. 2x4s
used to build T-braces for supporting plywood during installation
6. 11/4-inch-long, 18-gauge finishing nails
for brad nailer to fasten ceiling panels; or use special cone-headed nails
7. Latex caulk
used to fill gaps at the seams
8. Metallic touch-up paint
for concealing caulked gaps and mistakes on an unpainted ceiling
9. 1x4 tapping block
used to seal panel seams
10. Fine-point indelible marker
for marking cut lines on ceiling panels
11. 1/8-inch drill bit
used to locate ceiling joists
12. 3/8-inch drill bit
for boring tin-snip starting holes in ceiling panels