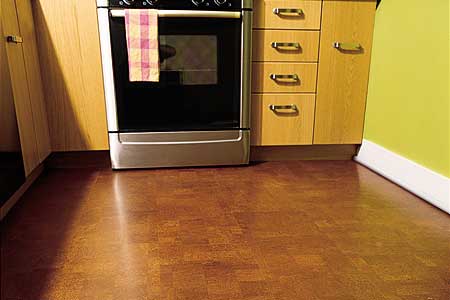 It's bad enough to have to get up in the morning, let alone get up and experience the icy shock of a cold floor. What you need is some warmth underfoot, a little cushion as you pad across the house. Enter cork. Resilient yet durable, stylish yet earthy, a natural cork floor can turn any cool room into a cozy haven. Cork is also a lot easier to install than traditional wood flooring. Manufacturers now offer products in engineered panels that snap together without glue or nails. These floating-floor systems sit well over plywood, concrete, or even existing flooring. As This Old House technical editor Mark Powers shows here, in one afternoon you can turn a kitchen or playroom floor into a comfortable mat where your toes can roam free without fear of the big chill.
Contribute to This Story Below
Straightedge and clamps

Jigsaw,
to cut flooring

Flush-cutting backsaw,
or ryoba saw, to trim door casings

Hammer or mallet

Pry bar

Miter box and drill/driver,
to cut and install shoe molding)
1. FLOORING
Measure the square footage of your space, then add 10 percent to that number to account for off cuts.
2. MOLDING
to mask the expansion gap
3. 1/2-INCH SPACERS
You can make these by cutting up a scrap piece of plywood.
4. 4D FINISH NAILS
to fasten the show molding
5. POLYETHYLENE SHEETING
to act as a moisture barrier if youa re installing the flooring over concrete