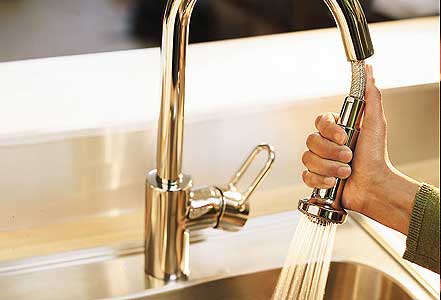 A stiff-necked kitchen faucet with a little swivel head clutters the back of your sink, what with the spigot, the hot and cold handles, and that squat black spray hose (which, let's face it, always leaks). The current trend in faucets is a single, sleek arm protruding from the sink rim—hose, faucet, spray, and hot and cold controls all in one place. One hand, all functions. Pull-down (and pull-out) faucets have a retractable spray hose hidden inside the traditional fixed spigot. Great for filling pots, cleaning dishes, and giving a head of lettuce a thorough rinse, they're another brilliantly conceived and mighty cool-looking convenience in the world of kitchen expediency. Even better: Like most faucets, they're a snap to install. Just the twist of a few fittings and you've brought your kitchen one step closer to the modern world.

Contribute to This Story Below
Bucket

Basin wrench

2 adjustable wrenches

Flat-head screwdriver
1. FAUCET
Usually comes with everything necessary for installation, except braided supply lines.
2. BRAIDED SUPPLY LINES
Needed to connect faucets that have rigid tubing.
3. ESCUTCHEON PLATE
if necessary, to cover holes in the sink rim or the countertop when replacing a three-hole faucet.