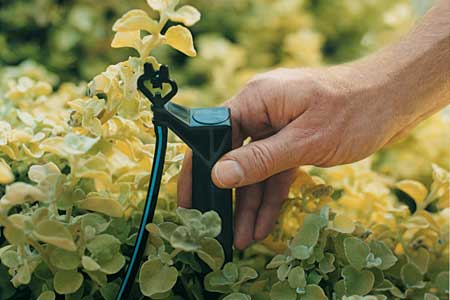 In most parts of the country, trying to keep yards watered throughout the summer requires an open tap like you haven't seen since your last fraternity kegger. Which isn't so great if you live in a conservation-conscious area that restricts sprinkler use. If the best defense is a good offense, the way to beat the heat is with micro irrigation. This system of drip tubing and tiny sprayers delivers aqua right at the base of plants.

You don't need a sophisticated irrigation network to supply micro irrigation—a spigot for a hose will do. Setting up a system to feed a backyard's worth of plant beds, shrubs, and trees takes just a few minutes of designing and a couple of hours of connecting the various components. Then before you can pop open a cold one and admire your handiwork, your garden will be thanking you for its own liquid refreshment.
Contribute to This Story Below
Tubing Cutter,
bypass pruner or scissors would suffice, but the thick tubing can dull the blades, making them less effective in the garden

Hole Punch,
comes with tubing
1. 1/2-INCH DRIP TUBING
comes in 50-, 75- 100-, or 500-foot rolls, either with or without factory-installed emitters. Calculate the square footage of the area you want to irrigate, then figure on one foot of tubing per square foot of plant bed.
2. 1/4-INCH DRIP TUBING
use this smaller tubing to branch off from the main line and reach specific bushes, trees, or containers.
3. TUBING CONNECTORS
elbow, tee, and straight connectors allow you to turn the tubing without kinking it, or add on more lengths of tubing.
4. WATER SOURCE CONNECTION KIT
for attaching the tubing to an outdoor faucet. Kit should include a vacuum breaker, pressure regulator, a filter, and a connector for attaching the tubing.
5. SPRAY AND DRIP ACCESSORIES
including micro sprayers, small emitters, and foggers for reaching different plants around the garden.
6. BARK MULCH