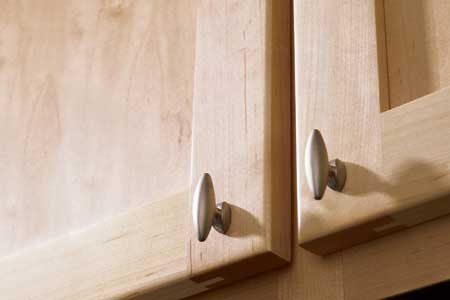 That sweet old woman you bought your house from is truly wonderful - really, she is - especially the way she gave out homemade cookies during the holidays. But we're sorry, that kitchen where she baked them - it's ugly. Avocado green from the 1970s may be "in" again, but not like that. And those grease-caked, kid-scratched cabinets have to go.

We're not saying you must gut and rebuild. Instead of spending, say, $5,000 on new cabinets, save some serious cash and reface the ones you have for under $1,000. It's amazing what a little veneer and some new doors can do to brighten an aging space. Both are available through woodworking companies, and some manufactures offer peel-and-stick veneer to make the task simpler. Just be sure to measure twice and cut once, as a friend of ours likes to say. Work carefully, and your kitchen will look brand-new when you're done.

Contribute to This Story Below
Hammer and nailset

Straightedge

Utility knife

Try-square and razor

Drill/driver

Handsaw,
if necessary to cut old drawer fronts
1. DOORS
Provide the manufacturer with dimensions for each door. Measure the cabinet openings. Then add 1 inch to both the width and the height so that you'll end up with a 1/2-inch overlap all around. (For split-doors, where two doors meet to cover one opening, add 1 inch to the full width, divide by two, then subtract 1/16 inch. This will give you a measurement for each door that leaves a 1/8-inch gap between the two.) If you're installing concealed European hinges (see below), order the doors 'bored.' Specify right or left bore. If you want glass-fronted cabinets, order 'mullion' doors (specify the number of lights) or 'frame only' (single pane), then have glass inserts custom cut.
2. SELF-ADHESIVE VENEER
aka "pressure sensitive" veneer. Comes in 2-foot-by-8-foot rolls; one roll will cover about 10 cabinets.
3. DRAWER FRONTS
Measure edge to edge for the exact size of replacements.
4. PLYWOOD PANELS
to cover the exposed sides of cabinets. Measure edge to edge.
5. HINGES
if old hinges are bent or broken, or if you want to switch to concealed European hinges with a spring that closes doors automatically.
6. KNOBS AND PULLS
7. TSP
(trisodium phosphate), a strong degreaser. For cleaning cabinet faces and prepping them for veneer.
8. 150-GRIT SANDPAPER and TACK CLOTH9. CARPENTER'S GLUE
For affixing plywood panels.
10. 2D FINISH NAILS11. WOOD FILLER