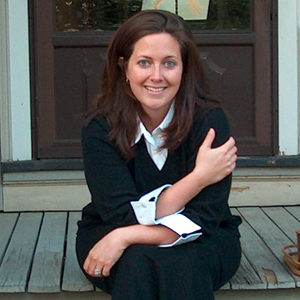 Deborah Hood, Series Producer, This Old House
Never far from the activity of the jobsite, producer Deborah Hood works closely with This Old House homeowners, craftspeople, and design professionals to bring new projects, products, and technologies to the screen. Throughout each season, she develops challenging House projects and diverse side stories that are the hallmarks of the Emmy Award-winning home improvement series. Deborah joined the team at This Old House Productions, Inc. in 2002 as associate producer and has since helped to capture key construction milestones on camera, earning a promotion to producer on the Bermuda project in 2003 and series producer as the show celebrated its 30th year. Most recently, she received an "Outstanding Lifestyle Program" Daytime Emmy Award for the show's episodes chronicling the 2007-08 New Orleans Rebuilds project. Previously she was nominated for an "Outstanding Service Show" Daytime Emmy Award for the 2005-06 season.

"The most satisfying part of my job is working closely with the homeowners, helping them make sense of the production process and managing their expectations," says Deborah. "It's a rare privilege to be given full access to someone's home for several months during the chaos of a major renovation."

Prior to joining This Old House, Deborah worked with Eyemark Entertainment/CBS on the startup talk show, The Gayle King Show, and in the programming department at Lifetime Television in Manhattan. For three years, she worked with an independent documentary company producing shows on ancient cultures for the Discovery Channel, History Channel, and PBS, most recently co-producing and co-writing a two-hour special on the dawn of Egyptian history, The Real Scorpion King. She received a Bachelor of Arts in dramatic writing, as well as a minor in photography from the University of Georgia in 1994.

Deborah was raised in historic Glastonbury, Connecticut in a circa 1760 early Federal era home. She and her husband currently live in an 1880 Victorian farmhouse south of Boston, where they enjoy ongoing renovations and gardening.