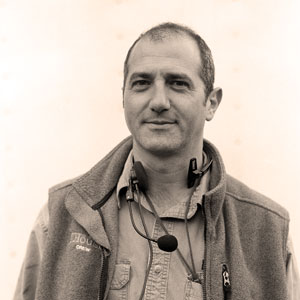 David Vos, Senior Producer and Director
David started working with the Emmy Award-winning This Old House during the 1992 Lexington Ranch project as part of the audio department. Soon afterwards, he began developing, producing, and directing other projects for the unit, including the first one-hour special, This Old Hall, featuring the renovation of one of the world's great concert halls, New England Conservatory's Jordan Hall, in a story that joined the craftsmanship of old world renovation masters with musical greats such as Yo-Yo Ma and Wynton Marsalis. More recently, David produced and directed Behind the Scenes at This Old House in Manchester, Massachusetts, giving viewers an intimate look at the making of one of the show's most ambitious projects to date. The special was nominated for a Daytime Emmy Award. Today, David is the senior producer and director of This Old House, Ask This Old House, Inside This Old House, and special projects for This Old House Productions, Inc.

"I am constantly impressed by the artistry, science, and even magic the craftspeople we work with bring to their tasks," says David, "and I feel lucky to play a part in bringing their stories to the screen."

David has been awarded three Emmys, a Cine Eagle, a Golden Mike, and the Gold Medal at the Houston Fest for a range of his production projects, including anti-smoking spots, Super Bowl promos for ABC's Monday Night Football, as well as filmed classical music performances. David Vos was honored with two daytime Emmy award nominations for his work in 2006; Outstanding Lifestyle Directing and a nomination for production in the Outstanding Lifestyle Program category.

For the past 18 years, he has worked as a volunteer with Little Brothers Friends of the Elderly, a group that sponsors visits and homecare for homebound senior citizens. He also volunteers with the Brookline school system's Book Bag Program, reading once a week to children in city schools. David is the president of the board of directors of the Clinton Path Preschool, a cooperative preschool in Brookline, and he recently directed his first opera at the Longy School of Music in Cambridge, Massachusetts.

David graduated from Emerson College with a major in television and film production, as well as a minor in English literature and sociology in 1978. He lives in a 1920 arts-and-crafts-style home west of Boston, Massachusetts with his wife, who is a professional dancer, and two daughters. David's free time is taken up with cooking, a hobby he's enjoyed since his days as a professional chef.