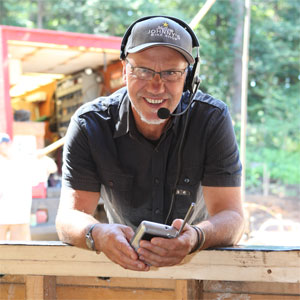 Thomas Draudt, Director
Thomas (Thom) Draudt brings over 25 years of experience to This Old House® and Ask This Old House®. He was named director of both shows in 2012. Thom first began working with This Old House when he was asked to produce '2.07s' for the show—2 minute, 7 second portraits of the various contractors and artists who appear on the series. He then went on to executive produce and direct This New House, for which he was nominated for a Daytime Emmy® Award for Outstanding Directing in a Lifestyle/Culinary Program in 2012. Prior to that, Thom directed commercials and high-end corporate media for companies such as Apple Computer, Intel, Levi's, Sun Microsystems, Sony Playstation, and Medtronic, to name a few.

As Director of This Old House and Ask This Old House, Thom is tasked with showcasing all the hard work the crew puts in during each renovation. Whether the experts are answering home improvement questions around the country for Ask This Old House or taping at the This Old House project site, Thom's role is a crucial one.

"In addition to capturing all the important elements for the viewers, I strive to create a work atmosphere to make the guys comfortable, and let them do their thing on real construction sites. Not only are they masters at the work they do, they are accomplished television personalities who are true professionals, even after take 13!"

Although Thom grew up around his father's lumber and building supply store and worked at the local hardware store when he was young, he did not follow directly in his father's footsteps. Thom graduated from the University of Massachusetts Amherst and became passionate about moving images and sound at a yearlong internship at The Massachusetts Institute of Technology. As part of the Boston Film/Video Foundation, he made short films and videos that played Internationally at festivals, galleries, and TV & cable outlets. In 1989, he won first place in the New England Film & Video Festival. During this time he was employed as Cameraman/editor and Producer/Director at production companies, TV stations, and regional cable outlets.

Thom resides in Cambridge, Massachusetts. His hobbies include collecting vinyl records, DJing, cycling, playing tennis and skiing.