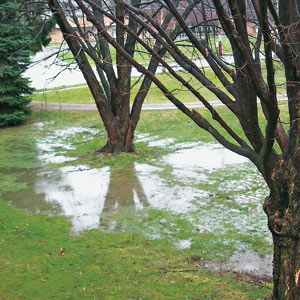 Q:
Seems like our backyard floods every time we get a good rain, and the water stands for days. This was not always a problem, but it seems to get worse every year. Why is this happening and what can I do to solve the problem?
—
Wayne Perrin, Millersburg, Ohio
A:
Roger Cook replies:
Water runs downhill, so look uphill for the source of the problem. It could be that someone added a new impervious surface, such as a driveway or patio. Or perhaps a drain is clogged or someone changed the grade of their lawn or pointed downspouts in your direction. Try to solve the problem at its source. If you can't, here are two things you can do:
(1) Raise the level of your lawn. The next time it floods, mark the edges of the flooded area with stakes. Then, after the water is gone, cut out the existing grass and rototill the area to loosen the soil. Add enough loam to raise the grade, but no more than 4 inches or you risk killing any trees by compacting their roots. Finally, reseed the area. The new elevated grade will push water in some other direction, so be sure it's a place that can drain quickly and won't flood a neighboring yard or basement.
(2) As an alternative, put a couple of dry wells in the area. A dry well is basically an empty barrel with a top, no bottom, and holes in its side. It captures surface water and holds it underground, giving it time to disperse into the surrounding soil. The plastic versions are easy to work with and relatively inexpensive. You'll need to dig a hole about 4 feet deep and 4 feet wide for each well, preferably in a location with fast-draining, sandy soil; clay soil drains more slowly. Line the hole with filter fabric to keep out dirt, then shovel in a 6-inch-thick bed of clean
¾
- to 1
½
-inch drainage stone. Place the dry well on the stone bed and fill in around it with more stone. Lay a 4-inch-diameter pipe from the dry well to a 4-inch-square ground-level grate at a low spot in the lawn. Your yard should be a lot dryer after the next rainstorm.
Shown:
If upstream runoff is not the cause of regular flooding, the solution is to raise the grade a few inches or install some dry wells, says Roger Cook.