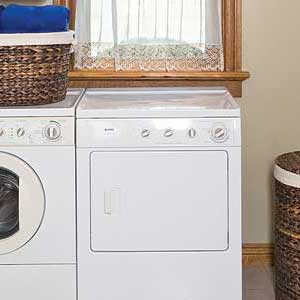 Q:
This winter our laundry room stayed about 15 degrees cooler than the rest of the house. Could the dryer's flap-type exhaust vent be part of the problem?
—
Shawn Crowley, by e-mail
A:
Richard Trethewey replies:
I don't think that's part of the problem—it's probably all of it. A typical dryer exhaust vent has a hinged flapper or set of movable louvers that don't do much to keep cold air from pouring back into the dryer between loads, particularly in windy weather. And if there's even a little bit of lint buildup, the vent's flap won't close at all, and that's almost as bad as leaving a window open 24/7.
A much better solution is to replace it with a self-sealing dryer vent, such as the
Lambro Industries'
UltraSeal Dryer Vent, which retails for about $18. This wall-mounted unit has an internal cap that opens only when the dryer is on, then closes tightly when it stops. Wind has no effect on it.
Now that mild weather has returned, this is an ideal time to clean our your dryer duct and install this kind of vent.