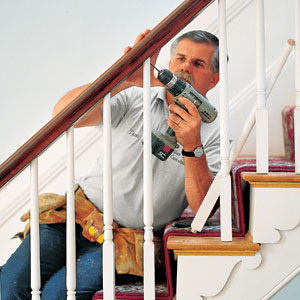 Q: Several of the balusters on my stairs are loose. How can I tighten them up?

—Barb Hackley, Fairfield, Conn.

A: Tom Silva replies: Most loose balusters can be fixed by securing them to the handrail. You could simply dip a wood sliver in glue and wedge it between the top of the baluster and the underside of the handrail. When the glue dries, trim away the excess.

Or you could drive a finish nail up through the baluster and into the handrail. (Always drill a pilot hole first to avoid splitting this thin piece of wood.) Then, using a nailset, carefully tap the nailhead below the surface and conceal it with putty.